DJ Sasha World Tour (Orlando) 18th July 94
Skin Up Jo Production
1. DJ MBG - Trance Wave Two (Mystic No Rhythm) "dont be afraid, come here" atmospheric intro
2. Yekuana - Thousand Rains [Fabric Of Life] inst panflutes
3. Histerya - Love Nature (Joy & Kaya Remix) "show me all your loving yeah"
4. Tenth Chapter - Prologue (Atlas 1st Addition Mix) inst / timpani drums
5. Night Communication - Tribe Trip (XL Mix) [Heartbeat]
6. Pizzaman - Trippin On Sunshine (California Sunshine Mix)
7. Inca - Syncronous (Head Mix) [Jamm Records] acidy inst
8. 108 Grand - Love You All Over (Coconut Baby Oil Experience) male
9. Quivver - Twist & Shout

1. Needle - I.J.O. (Synergy Mix) [Calypso] "happy oh, get on it" african chanting
2. Bum Bum Club - Freaky Jam [Eviva] "come on"
3. Boomshanka - Take My Love [Cowboy] "in my love, in my, take my love" female/piano
4. Fanny Cadeo - Pecame (Mr Marvin Mix) "hey baby, dont stop love"
5. Sounds Of Blackness - Everything Is Gonna Be Alright (Unreleased Sasha Remix)
6. Royal T - Coming Back For More (JX Pumping Mix) [Almighty]
7. Wiggle - CoiD! (Clonk Mix) [Undercontrol] "come on" harp at breakdown
8. Daft Punk - Alive
9. B.O.D. - No More Mindgames "its a dream" male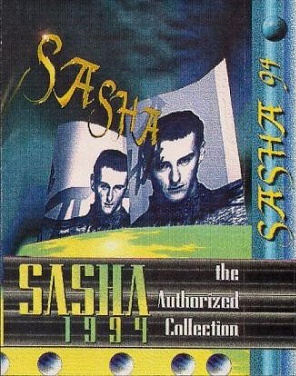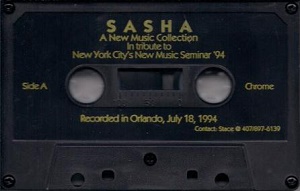 comment: seen this going around labelled as - Sasha @ Orlando Florida July 94 The Authorized Collection 94, New York City's New Music Seminar '94. & Sasha World Tour In Trance July 94.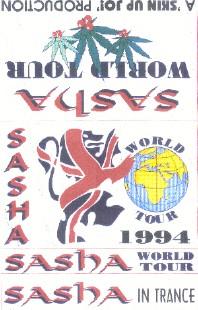 sbradyman2@aol.com