Universe (Adventures On The Pleasure Planet) Near Newport 19-6-92
John Kelly, Sasha + MC Joe Peng, Judge Jules
e-mail me if you can identify any of the unknown tracks
Tape 1 - John Kelly (88min)
1. SIL - Blue Oyster
2. TDP - Ladies (Lets Go)
3. Zone Ranger - 2 B Real
4. Outrage - Drives Me Crazy
5. Georgie Porgie - Let The Music Pump You Up (Dan's Club Mix)
6. Anambi - Keep Doing The Freak "you gotta get up"
7. Chudd - Lovin The Groove (Roach Edit) [Swerve] "music" hammond/piano
8. Deja Vu - Move Your Waistline (The Big Bump Remould) [DMC 4/92]
9. Roxanne Shante - Live On Stage (House Mix)
10. Yazoo - Situation (Remix) (The Aggressive Attitude Mix)
11. Baby June - Hey! Whats Your Name (Brassneck Mix)
DOP - Groovy Beat (briefly dropped in)
12. The Minute Men - All My Friends
13. Nush - Nush
14. 3 Shades Brown - Nasty Bass (Dub Mix With Samples) "bass dancin jumpin, sweat" female
Lil Louie - Video Crash (briefly dropped in)
15. Original Rockers - Push Push
16. The Diceman - The Tempest
17. Man With No Name - Forever 1 (From Within ep 2) "I need your love forever" horns/dub bassline
18. Orson Karte - Tonight
19. Felix - Dont You Want Me
20. Pamela Fernandez - Kickin in the Beat (acappella)
21. [62:20] ??? inst with broken beats
22. Plat3form 69 - Axel F [Hot Records]
23. Gaucho - Dance Forever
24. Mato Grosso - Thunder (Remix) "were gonna bang to the beat of the drum come on" male
25. Mister B - Lets Get Horny
26. Smells Like Heaven - Londres Strutt "bassline kickin yes im groovin" male
27. Primal Scream - Dont Fight It, Feel It (Scat Mix)
Tape 2
Todd Terry presents Sax - Dont You Want Some More
Sasha (79min)
1. Meli'sa Morgan - Still In Love With You (Meli'sas In The House Mix) + MC Joe Peng
2. Denise Lopez - Dont You Wanna Be Mine (C&C Vocal Club)
3. Bomb The Bass - You See Me In 3D (Remix)
Siedah Garrett - K.I.S.S.I.N.G (acappella)
4. That Kid Chris - Keep On Pressin On (Didn't I Show Ya Luv Mix)
needle skips & slides across the record
5. Lil' Louis - Club Lonely (Bellbottoms & Platforms Mix) [FFRR]
6. Megatonk - Belgium (Nintendotone Mix)
7. Clubland - (Im Under) Love Strain (Lost In Dub)
8. Nush - Nush (Original Mix)
9. Rhythm Quest - Closer To All Your Dreams (Hibrid Mix) + MC Pure Love
10. MI 7 - Rockin Down The House (Chop Mix)
11. The Diceman - Quad (Spookys Magi Mix) "when you want me"
12. Leftfield - Release The Pressure (The Vocal Mix)
13. Deep Beats Vol.1 - Siren [Deep Beats]
14. Degrees of Motion - Shine On (Junior Style Dub)
15. Pamela Fernandez - Kickin In The Beat (AIM Dub) "the feeling baby"
16. Snap! - See The Light (Hypnotic Base Line Mix) "you can always call my name & ill be there"
17. Brothers Love Dubs - The Mighty Ming (Original Club Mix) [Stress]
18. Maarten Van Der Vleuten - Spanish Fly [TZ 7] "oh yeah"
19. Jovonn - Let Me Hear Ya Stomp (Out All Nite ep Vol.2) [Emotive Records]
20. Hashim - Al-Naafiysh (The Soul)
21. Mr Clubman - Release The Tension (Disco Version) [Malego Records] "release the tension, release the tensssion"

Tape 3 - Judge Jules (60min)
1. Sounds Unlimited - Uplifting L. [Buzz] "oh lifting me"
2. Rockers Revenge - Walking On Sunshine (accapella)
3. Marascia - For The Music "modern music, all I want is the beat yeah, we got the music, energy"
4. Shalamaar - Take That To The Bank "baby love" disco tune
5. Sheer Bronze - Walking On
6. Fargetta - Music Is Moving (Bam Bam Tribal)
7. Nitro Deluxe - This Brutal House ('92 Revamp By Greed) [DMC 5/92]
8. Jules And Skins - Get Loose (Rushin Roulette ep) "get down, get loose"
9. F.I.T.Z - Feel The Music "I wonna feel the music" female / organ riff / piano
10. Sabrina Johnston - I Wanna Sing
11. Liberation - Liberation
12. Grace Under Pressure - Make My Day (Bruce Forest Club Mix) "free your mind" female
13. [29:00] ??? "one on one thats what its all about" male/broken beats/piano
14. The Grid - Figure Of Eight (Grid 456 Mix)
14. The Grid - Figure Of Eight (Grid 456 Mix) cont
15. Friends Of Matthew - Feeling High (D.O.P. Remix) "funky do" male
16. Young & Company - I Like (What Youre Doing To Me) disco tune / female
17. Key Tronics Ensemble - House Of Calypso (Paradise Mix) jazzy piano
18. Techno Grooves 6 - Let It Go [Stealth]
19. Deep Beats Vol.1 (AA1) - untitled track that samples MK - Burning
20. The Alternative - Let's Talk About It [Mendoza] "talk about music yeah, come on take me up" female
21. Dr Alban - No Coke
21. Stereo MCs - Lost In Music
22. MC5 - Ramblin Rose [1969] male speech used by Lionrock - Are You Willing To Testify
23. Richie Havens - Going Back To My Roots

Comments : Classic Sasha set with MC Joe Peng "nice and easy, lemon squeezy" The tracklisting above is for the full version of this mix. Most people have the 60min version which only goes up to track 14 (Degrees of Motion).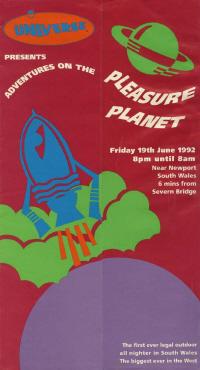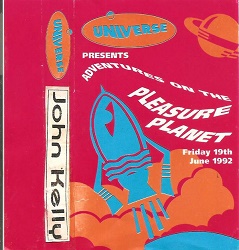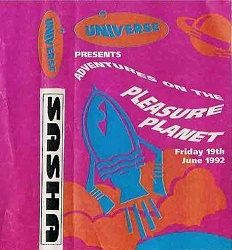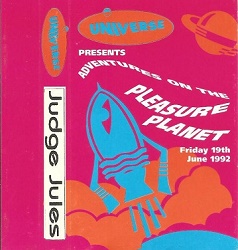 sbradyman2@aol.com