DJ Sasha & John Digweed @ Simons Gemini Party,
Gainesville, Florida 26th May 1996
also seen this dated as 2006-07-04
e-mail me if you can identify the unknown track
part 1 - introduced as- "alright everyone, put your hands together for dj john digweed" (93:48)
1. Andrea Mendez - Bring Me Love (Mad Boy Dub) [AM:PM]
2. Purple Hospital - Groove From My Heart [Brainiak] operatic female wailing
3. Housey Doingz - Curly Wurly [Pagan] "i cant wait" male
4. Space - Female Of The Species (Motorcade Full On Mix) "im in heaven" haunting female vocals
5. Beber - The Boat Race (Car City Mix) [Izit Dance]
6. Spectral Exile - Motive [BMG]
7. N-Tribe - Phreakwave (Part 1) [Le Petit Prince]
8. Sasha - Arkham Asylum [Deconstruction]
9. Nu Colours - Special Kind Of Lover (The Great Divide Dub III) [Wildcard]
10. DJ Inertia vs Speedy - Hypnotica [Swell]
11. Blue Amazon - And Then The Rain Falls (Blue Amazon Original Mix) [S3]
12. Jai-Zed - Flight (Sonar Dub) [ST Recordings]
13. Transa - Prophase [Hook] -split-
14. Space Girl feat Rebecca B - Inside (SGO Mix) "im inside your mind" female
15. Future Breeze - Islamic Nights [Le Petit Prince]
16. Robert Miles - Red Zone (Part 3) [DBX]
"alright everybody, put your hands together for dj john digweed"


part 2 - introduced as- "on the decks right now dj saaaarsha" (118:42)
16. Robert Miles - Red Zone (Part 3) [DBX]
17. The Arc - Echobeach (Original Mix) [Pied Piper] acidy
18. Allium - M.O.T. Venture (Hold Your Pillow) [Movin Melodies] "wake up & feel..." male whisper
19. S'N'S - Conflicts [Deal]
20. Snap! feat Rukmane - Rame (Resistance D Remix) [Arista] whailing female
20b. Prefab Planet - Overview [Curve Recordings]
21. U96 - Club Bizarre (Ken Doh Mix) [Urban] sirens from Crescendo / vocals from Carlton
22. JP & Taylor - Digital Discourse [Music Now] "i have a message for you, dont be afraid, love yourself" female
23. Paragliders - Share Of Bitterness (Peppermint Mix) [Yeti]
24. Robbers Of Antiquity - Kids In The Hole [Belief Systems] appregio bassline "welcome" male
25. Luxor - Hypnotica (Harmonic Resource Remix) "nautica" male whisper / heavy kick drum
26. Reefa - Decadence (Scope Remix) "give a little more"
27. Natural Forces - Legacy (Yum Yum Acid Mix) acidy / piano at break
28. Slacker - Flyin [Loaded] "you got me flying man" male -split-
29. Tilt - My Spirit (Dub) [Perfecto] "feel my spirit surround you" female
30. Kay-Gee's - Celestial Vibrations [1979] "good evening we dedicate this trip all the people of the universe with free minds" male
31. Chakra - I Am (John Digweed & Nick Muirs Bedrock Dream Dub)
32. Chakra - I Am (John Digweed & Nick Muirs Bedrock Mix) "i am the love .. i am your soul" female
33. Konya - Come On (Original Full Vocal Mix) [Positiva] "bring me to the ocean, take me to the sea, let me be like waves of motion, let me be your dream, got to love you" female
34. Hong Kong Trash - Cactus Funk (goodmen-ish) samples KLF grimm up north


part 3 - (93:58)
1. Amethyst - Futura [Jackpot]
2. Dawntreader - Dominion (Red Room Mix) [Hook Recordings]
3. Castle Trancelot - The Gloom (Trance Dub) [Slate]
4. Hong Kong Trash - Cactus Funk samples KLF grimm up north
5. Mozaic - Rays Of The Rising Sun (Ramp's Worshipful Dub) "we worship you, we pray to you, we praise you" female
6. Astral Projection feat DJ Jorg - Mahadeva (Original Mix) inst trance
7. Alex Reece feat Carmen - Candles (Blue Amazon Angel Of The North Vocal Mix) "were gonna get away" female -split-
8. Andy Ling - Calling Angels (Analogue Heaven Mix) [Fluid]
9. Andy Ling - Calling Angels (Cyclo Mix) [Fluid]
10. Atropin - Give Me Some Hope (Andrew Ektom Mix) [3 Lanka]
11. BBE - 7 Days And 1 Week
12. Angeles - The Keeper
13. Evolution - Your Love Is Calling [Deconstruction] "I know your love is calling" female


part 4 - (93:55)
1. The Digital Blondes - Antheum (Free Mix) [Fluid]
2. Ready For Dead - Ready For Dead (Original Mix) [Limbo]
3. Brother Grim - Radiate (Electroliners Remix) [Sm:)e]
4. Goldie vs. RITM - Inner City Life (RITM's Vocalic City Mix) [FFRR]
5. Delta Lady - Anything You Want (The Delta Belter Vocal Symphony) [Hard Hands]
6. Subliminal Cuts - Le Voie Le Soleil (Way Out West Dub Mix) [XL Promo]
7. Yazz - Abandon Me (Ramp Vacancy Mix) [WEA] "love dont live here any more" -split-
8. Gada-Gong - La Guerra [Spark Communications] acidy inst
9. [07:00] ??? "life" female / acidy
10. Speedy J - Pepper (Live)
11. Vernon - Vernons Wonderland (Wake Up Mix) [Eye Q]
12. Nunca - Ballistique (Force Mass Motion Remix) [Amato]
13. T-Empo - The Blue Room (Original Mix) [FFRR]
14. Amethyst - Krakatoa [Jackpot]
digweed at the end "you've got two more records tonight from sasha and myself...this is one of em"
15. Section X - Atlantis (Original Mix) [Perfecto]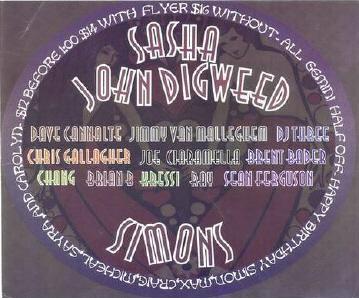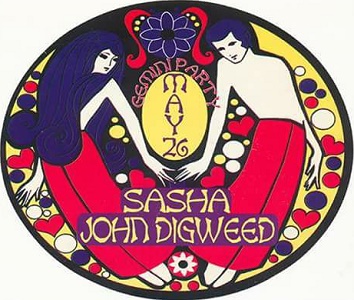 comment: there have been a few different bootleg releases of this set.