Progress 3rd Birthday 16th Dec 95 - Tony De Vit
e-mail me if you can identify the unknown track
Tony De Vit
1. Taylor Dayne - Tell It To My Heart (Tony De Vit Club Mix)
2. Candy Girls - Wham Bam (Sharp White Limo Remix)
3. East Anglia - Unmanageable (Sharp Raided Dub)
4. Paul Rayner (Bert Vol. 1) - Outa Control [100%] "this place is rocking, its outta control" male
5. Mr Jack - Only House Muzik (Thriller Mix)
6. Todd Terry - Jumpin' (Original Mix)
7. The Soul Travel - Total Rotate (Wriggle Mix) [Waves] "hey hey"
8. Fargetta - The Music Is Moving (Tony De Vit Mix)
9. Movin' Melodies - Indica (Original Mix)
10. Patrick Prins - May I Have The Mayonnaise
11. E-Motion - Naughty North Sexy South (Naughty But Nice Mix)
12. Chakka Boom Bang - Tossing And Turning (Tony De Vit Mix)
13. Mukkaa - Kiss My Acid [Limbo]
14. [78:00] ? "wooh aye" female
15. Xpansions 95 - Move Your Body (Tony De Vit Mix)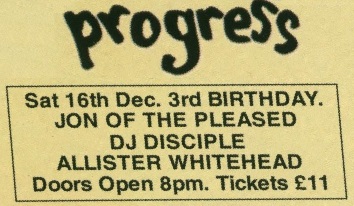 comments: announcer says due to change of venue & times Jon Pleased Wimmin cant be with us tonight, in his replacement is Tony De Vit.