Great Tunes (Pack 5) : John Digweed, Sasha, Graeme Park, Allister Whitehead (1995)
John Digweed ( Boxed 95 : @ DeJa-Vu, Hull)
1. Soundstation - The State Of "Ecxtasy" [Strictly Rhythm] spanish guitar/bird noises
2. Shiva - Work It Out (Morales Red Zone Mix)
3. Shiva - Work It Out (F.O.S. Untouchable Vocal)
4. H20 feat Billie - Satisfied (Take Me Higher)
5. Angel Moraes feat Sally Cortez - Welcome To The Factory (Angels Journey Mix)
6. Nush - Move That Body "work that body, move that body"
7. Chrome - Fixation (House Mix) [Consolidated]
8. Richard Traviss - Come And Rescue Me (Junior's Soundfactory Dub) "I wont miss you" female
9. Billie Ray Martin - True Moments Of My World (John Digweed Vocal Mix)
9. Billie Ray Martin - True Moments Of My World (John Digweed Vocal Mix) cont
10. Nootropic - I See Only You (Nootropic Mix)
11. Sitric - Ascension [Visions] familiar
12. DJ Marco Bailey - Planet Goa (Remix) [Circus] like long & dark
13. BT feat Vincent Covello - Loving You More (Garden Of Ima Dub) "feel feel"
14. Seal - Im Alive (Sasha & BT Atraxion Future Mix)
Sasha (Boxed 95 : Recorded @ Home, Manchester, 8th Dec 94)
1. Oscillator - System [X-Gate Records] "system, give it to em, put that record back on" rave sounding riff
2. Toko Productions - The Big Push (Original Mix)
3. OT Tunes - High (Mix 1) big tune inst/organ
4. BT - Embracing The Sunshine (Sashas mix) flute
5. Danny Tenaglia - Bottom Heavy (Danny's Bottom Heavy Remix) "look over your shoulder"
6. Head Rush - Underground (King-Size Mix) "I am what I am, live underground, I hear what I wanna hear" female
7. Donna Summer - Melody Of Love (Wanna Be Loved) (The Boss Mix) "sounds like, does it sound right"
8. VFR - Liturgia (tom toms / robotic voice)
9. BT - Trippin The Light Fantastic "feel yeah"
10. Luvspunge - Didnt I Give You Dub [Spiritual] inst
11. Luvspunge - Didnt I Give You Love [Spiritual] "didn't I show you love"
Graeme Park (aka Juicy! Get Ready To Get Wet Pt.2)
1. Joe T Vannelli Project - Sweetest Day Of May
2. The Black Dog - Virtual
3. Matt Goss - The Key "i need the key"
4. Armando - Radikal Bitch (London Fierce Pussy Mix) "i said come on, you hear me girl" camp
5. Freelance Workers - Give Me More
6. Blunt Funkers - Gods An Astronaut (Stones Monday Bar Full On)
7. Size 9 - Im Ready
8. Brooklyns Poor & Needy - Happiness (Is Just Round The Bend) (Free Cheese Mix)
9. Spin That Wheel - Wake Up (Extended Club Mix)
10. Jamiroquai - Space Cowboy (Morales Classic Club Remix)
10. Jamiroquai - Space Cowboy (Morales Classic Club Remix) cont
11. Lisa Moorish - Beautiful Morning (Loveland Vocal Mix)
12. Up Yer Ronson feat Mary Pearce - Lost In Love (Graeme Park Remix)
13. Kim English - I Know A Place (E-Smoove Remix) "i know a place where we can go and get away"
14. Paula Abdul - My Love Is For Real (E-Smoove's Fever Mix) "i am for real" female/piano
15. Erire - Shine (Parkside Club Mix) "im gonna let it shine"
16. Ann-Marie Smith - Your My One & Only (True Love) "yeah im in heaven" female/hammond
17. Tak Tix - Feel Like Singing
Allister Whitehead (early 95)
1. The Bucketheads - The Bomb! (These Sounds Fall Into My Mind)
2. Pamela Fernandez - Lets Start Over
3. Shades Of Love - Keep In Touch (Body To Body) (10:31 Mix)
4. Crystal Waters - What I Need (Bad Yard Club)
5. M People - Open Your Heart (LuvDup Dub) "you make me feel" female
6. Kitsch In Sync - Another Night (Full Vocal Mix)
7. N.Y.G. feat Donovan Blackwood - The Real Thing (Luvdup Dub) "no doubt about it" male
8. Happy Clappers - I Believe
9. Men From Mars - Get Down Tonight "lets dance"
9. Men From Mars - Get Down Tonight "lets dance"
10. Anthony White - Love Me Tonight (Gomez Rocks The Joint)
11. Eve Gallagher - You Can Have It All (Rhyme Time Club Mix)
12. The Real Deal feat Annette Taylor - Dont You Wanna Be Mine
13. Up Yer Ronson - Lost In Love (Up Yer Ronson Remix)
14. Rockmelons feat Doug Williams - Loves Gonna Bring You Home
15. Shiva - Work it Out (Morales Classic Club Mix)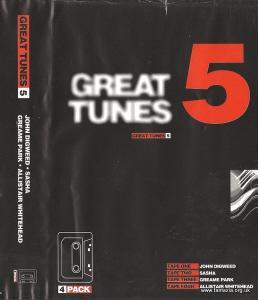 comment: the Digweed set is the same as John Digweed (& Ian Ossia) : Boxed @ DeJa-Vu, Hull [CatBxd 1113]
the Graeme Park set is similar to House Masters Studio Tape '95

sbradyman2@aol.com