Chuff Chuff '94 - Jim Shaft Ryan & Justin Robertson (2 x Tape)
e-mail me if you can identify any of the unknown tracks
* Jim Shaft Ryan * (73min)
1. Punchunella - San Trancisco "oh yeah" piano
2. Marcella Detroit - I Want To Take You Higher (Vertigo Mix) "wanna take you higher" repeated female
3. [04:00] ??? robotic voice
4. Elastic Band - Running Up That Hill
5. D.O.P. - Lion [Guerilla]
6. Loveland feat Rachel McFarlane - Let The Music (Lift You Up) (Full On Vocal Mix) "come on grab somebody"
7. Dco2 - Do What You Feel "you interfere, freedom from above, yeah" male
8. D.F.A. - Keep In My Way [Flying] "watching you, and the movement of your body" female
9. JX - Son Of A Gun
10. 2 Minds - 2 Minds "yeah" female
11. Schiffer - Rivoluzione [Underground]
12. Real Touch Concept - Chunks Of Funk "clap your hands stomp your feet" JB samples / horns
13. Dominoes - Love On Love (Shut The Door) [Italian Style] "shut the door, keep down the sound" male
14. S.H.O.K. - Old Times (Club D.O. Mix) [Italian Style Production] "we start this show, gimme a funky ass beat" male
15. [33:00] ??? "baby come to me" male / electric guitar
16. 2 Examples - Just Cant Help Me "just cant dance no more, just cant help it"
16. 2 Examples - Just Cant Help Me "just cant dance no more, just cant help it" (cont)
17. Sexual Intercourse - Sex Rhythm [Spyder] "rhythm rhythm" deep male
18. Rhythm Of Life - Herbie Rides Again [UCR] piano/vocoder male scat
19. Flavio Dado presents Rhythm Of Pleasure - Rhythm Of Pleasure [Out]
20. [46:50] ??? female/organ (also on JSR 94)
21. Chase - Love For The Future "ive got a new love for the future" female / euro
22. Maya - M-usic (Club Mix) [Hot] "everybody shake your body" male "you said" female
23. Illusive - Take Me Higher (Paparazzi Mix) "let the music take me higher" female
24. The Delorme - Feel This Way (Club For Life Mix) [Spanish Fly ep] female / piano
25. T.M.Y. - Lady Marmalade (Voulez-Vous Coucher Avec Moi)
26. Phase III - You Got To Get Loose [Extreme] "to get loose, just let the music motivate your mind" female
27. Dynamic Base - Africa "hip hip house this house is hip house say, africa" male / U2 piano
28. SSR - Hippodrome "1234567" female
29. Sharada House Gang - Dancing Through The Night
* Justin Robertson *
1. Quench - Dreams (Crunched Up Mix)
2. Rachid Taha - Indie (The Game Is Afoot Mix) flute (familiar)
3. Torfinn - I'll Nostra Tempo De La Vita "take you to a higher degree" male / calypso carnival / piano
4. Soul Odyssey - Rapture (Original Mix) "eeh yeah"
5. Nuts & Fruit - Pecan Groove [Clubtone] funky guitar
6. Stereogen - Hold Me [Vinyl Addiction] "hold me me me" male
7. Big Bottom Hula - Big Bottomed Music [Black Sunshine] "i pledge allegance to marajuana"
8. Peter Perfect Meets Justin Robertson - Pitstop (The Prankster Mixes) [Finiflex]
9. Musical Science - Musical Science (Home Economix) [Sabres of Paradise] acid line from Slam
10. Zero B - Lock Up (briefly)
10. Zero B - Lock Up (cont)
11. The Patrol - Give It Up "give it up, give it up" male/funky guitar
12. Scamme - War Zones "can you feel it" female "hu" male / samples all funked up
13. N.Y. Connection - In Front - Wan' It? (Original Mix)
14. Dome Patrol - The Cutting Edge (acidy / snake charmer)
15. Empirion - Narcotic Influence 1 "drugs taking their lives away"
16. Exposure - Party Claps
17. New Atlantic - Rude (Drop The Merchandise) "the sound of now" male / horns
18. Deep Throat - Mouth Organ [Stumble] stuttery male/mouthorgan
comment: the Jim Shaft Ryan tape is also part of the Boy George & Jim Shaft Ryan green double pack
ive also seen the Jim Shaft Ryan set labelled - Chuff Chuff 'Wild West Carnival' 28-3-93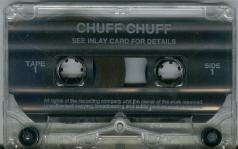 the Jim Shaft Ryan tape is also released as a Tease tape.