Boxed 96: Tony De Vit & Tall Paul Newman
e-mail me if you can identify the unknown track
* Tony De Vit * (aka Passion mixtape)
Respect - Young Hearts Run Free (Loveland's NRGetically Executed Dub)
Bum Bum Club - Play This House (Groove Industry Remix)
1. L.B.M Experience - I'll Be Waiting (Well Swung ep) "ive been waiting waiting waiting" female / piano
2. Back By Demand - Giving It All Ive Got (samples nightwriters)
3. The Mudmen - I Want U (Tuff Trax ep) "i want" female "hey everybody the partys about to start" male
4. MBG - Climbing On Top Of Love
5. Candy Girls - Wham Bam (Sharp White Limo Remix)
6. Marc Almond - Out There (TDV Mix)
7. The Self Preservation Society - The Whoop (think its Itty Bitty Boozy Woozy Mix)
8. Chaka Boom Bang - Tossin' & Turnin' (TDV Mix)
9. Kadoc - The Nighttrain
10. S-Express - Theme from S-Express (The Return Trip) (TDV Mix)
11. Transformer 2 - Just Cant Get Enough (Goodfello's Mix)
12. Phil Jubb - Remember Me (The KGB's Coalesced Dub) "musics pumpin" female
13. Superfly - Youarein [Plastic City] "gettin going" female
14. Montini Experience - Astrosyn - Your House Is Mine (Jon The Dentist Remix)
15. Munion - Poly Boy [Overdrive] inst
16. Fargetta - Music Is Movin' (TDV Mix)
17. Funkydory - Good Times (TDV Mix) "bom chick ah"
* Tall Paul Newman *
1. Klubbheads - Klubbhopping
2. Edge Records *19 - Brennen "burn burn" female / acidy
3. [05:00] ??? "come on, dancing dancing" female / siren
4. DJ Quicksilver - Bingo Bongo (Flip House Mix)
5. L.A.C - Welcome To The Space (Terasse Mix) male/siren
6. Allium - Guido The Killer Pimp [Movin Melodies] female scat / samples TC1992
7. Elektrochemie LK - Da Phonk (Gate 28 Mix) "this is funk" male
8. DJ Misjah & DJ Tim - Access (Itty Bitty Boozy Woozy Mix)
9. X Cabs - Outcast [Bellboy]
10. Pope Joan - You Gotta Get It Out (PJ's 909 Mix) "gotta get it in gotta get it out" male
11. Something Nice - Rhythm [Deus Ex Machina] piano
12. Future Files - Babytalk [South Of Sanity] "you got me burning" female
13. Libido - The Second Coming "la muzica" (riff from James - Come Home)
14. Space - Neighbourhood (Live It Club Mix)
15. Unknown Artist - Party Down [White Records] "party time, are you ready" male
16. Montini Experience - Astrosyn - Your House Is Mine (Jon The Dentist Remix)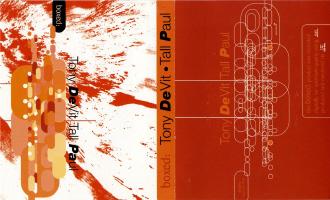 comment: 2 tracks at the start of Tony De Vit set in yellow are on the Passion mixtape pictured below, but missing from the Boxed tape.