Boxed 95: Jon Pleased Wimmin
CatBxd707
e-mail me if you can identify the unknown track
1. God Within - The Phoenix (briefly)
2. 1-900 - Keep Him On The Phone (Sexapella) [Strictly Rhythm] explicit lyrics intro
3. Joi Cardwell - Jump For Joi (Spike Dub) "music takes me higher, i wanna go higher" female
4. Miami Sound Machine - Jambala "oh yeah" male / percussive / tribal / stuttery female
5. Matrix - Can U Feel It (Congan Jungle) [Vicious Muzik] "work it, feel it, do it, can you feel it" female
6. Donna Summer - Melody Of Love (Stomp Mix)
7. The East Village Loft Society - Manhattan Anthem "i want you, where are you, do you know where the sound factory is" piano
8. Creation - Feel It "dont you feel it" female
9. Judy Cheeks - Respect (Mix?)
10. N.Y.G. - The Real Thing "no doubt about it" male
11. Amos - Let Love Shine (Cleveland City Dub)
12. Tocayo - Live In Peace (Guitar Mix) "gimme love, gimme hope, feel the hope/love, may we live in peace o lord above"
13. Greed - Pump Up The Volume (Freeez)
14. Hysterix - Everything "loving your affection, everything i ever lived for" female
Tape 2
14. Hysterix - Everything "loving your affection, everything that i live for" female (cont)
15. Gloworm - Carry Me Home (Eric Morle Morillo Mix)
16. BBR Streetgang - Feel The Music (Hot Shot Mix) "dont want to be free, dont want to be free" female
17. Johnny Vicious - The Swing (Frozen Bass Vol 1) "wind to the music"
18. The Bucketheads - The Bomb! (These Sounds Fall Into My Mind)
19. Jennifer Lucas - Take On Higher (Radio Extended) "moving up & down & to the ground, lets go higher" female/piano
20. Escrima - Train Of Thought
21. Tin Tin Out feat Espiritu - Always Something There To Remind Me
22. Sister Bliss - Oh! What A World "so take me home, wheres my dinner"
23. Annabella Lwin - Do What You Do (Fire Island Dub) "i love it when ya, activate activate" female
24. The Original - I Luv U Baby (Dancing Divaz Club Mix) [Ore]
25. Lisa Moorish - Just The Way It Is (Tin Tin Out Instrumental) [Go! Beat]
26. Jon Of The Pleased Wimmin - Passion (Tin Tin Out Mix)
27. Flipped Out - Everybody Is Somebody (helicopter noises at break)
28. Seventh Sense - Get The Music (Himalayan Dub) "enjoy the sensation"
29. Soup Dragons - Im Free
encore
30. [74:54] ??? "let yourself go, let it go"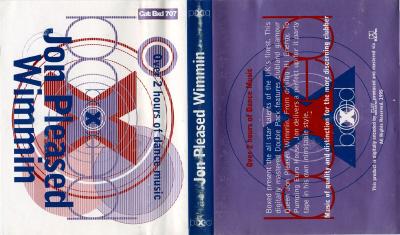 sbradyman2@aol.com