Boxed 95: Graeme Park @ Sixteenth Southport Dance Music Weekender
April 1995
1. H2O - Satisfied (Take Me Higher) "baby take me higher" (female)
2. Key Statements - Over You (Bounce Productions Vitalized Mix) "all you ever do, over you"
3. Malone & Mollison - To The Rhythm (Back To The Old Skool Vol. 1) "baby baby yeah, get down" female
4. Cathy Wood - Give Me Joy (Booker T Nu Soul Club Mix) "you give me joy, bring me joy" female
5. Brooklyn's Poor & Needy - Happiness (Is Just Round The Bend) (Free Cheese Mix)
6. Up Yer Ronson - Lost In Love (Graeme Park Remix)
7. Lisa Moorish - Beautiful Morning (Loveland Vocal Mix)
8. Erire - Shine (Parkside Club Mix)
9. Tak Tix - Feel Like Singing
10. Robbie Craig - Special (David Morales Mix) "your so special, weve got a special love"
10. Robbie Craig - Special (David Morales Mix) "i know im rushing just an ultimate high" (cont)
11. First Choice - Let No Man Put Asunder (Yellow Cab Mix)
12. Incognito - Everyday
13. Chrissy Ward - Right & Exact (Stonebridge Mix) [Ore]
14. Michelle Gayle - Freedom (Classic Expo Mix)
15. Lisa Moorish - Beautiful Morning (Loveland Vocal Mix)
16. D.Note - The Garden Of Earthly Delights (X-Press 2 Supavox)
17. The Brand New Heavies - Close To You (Mastersa At Work Remix)
18. H2O - Satisfied (Take Me Higher) [same as track 1] sounds like X-Press 2
19. Key Statements - Over You "no matter what you do, hullabaloo hope I do" [same as track 2]
20. Happy Clappers - I Believe (12" Master)
21. Brooklyn's Poor & Needy - Happiness (Is Just Round The Bend) [same as track 5]
22. Erire - Shine (Parkside Club Mix) [same as track 8]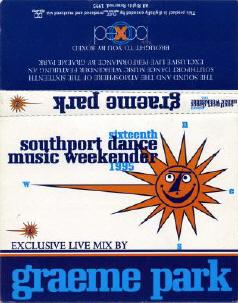 sbradyman2@aol.com