Boxed 95: Graeme Park & Danny Rampling
CatBxd202 My Postmans Got A Swollen Sack
e-mail me if you can identify the unknown track
* Graeme Park *
1. Carleen Anderson - Apparently Nothin (K-Klassic Mix)
2. Donna Summer - Melody of Love (The Boss Mix) inst echo piano
3. Donna Summer - Melody of Love (Classic Club Mix) "only love, sounds like music"
4. Kim English - Time For Love "its time for love"
5. Loni Clark - Loves Got Me (On A Trip So High) "you and me we have the world if we only believe"
6. Maria Rowe - Sexual (Parkside Club) you give me just a little bit more, sexual"
7. Basia - Drunk On Love (Roger S Ultimate Anthem Mix) "love love love, another day, you never know a better day" female/piano
8. Billie Ray Martin - Your Loving Arms

9. K.W.S. ft Teddy Pendergrass - The More I Get The More I Want (Hacienda Classic Vocal Mix)
10. Swing 52 - Color Of My Skin
11. R.A.W. - Higher (Feel It) (Erick "More" Tribal Flavor Mix) "feelin kinda real, thats how i feel"
12. The Brand New Heavies - Spend Some Time (Mallone And Mollison Club Mix) "trying to figure out what to do with this love
13. 3rd Nation - I Believe (Nice & Stoned 70s Mix) "I believe you and me"
14. Erire - Shine (Clubzone Mix) "im gonna let it shine"
15. Spirits - Dont Bring Me Down (Original Club Mix) "you can do what you want to do"
16. Sound Design (Todd Terry) - Bounce To The Beat
17. Tonja Dantzler - In And Out Of My Life (Cleveland City Full Mix)
18. Stabbs - Joy & Happiness "I want your love & happiness"
* Danny Rampling *
1. The Dream Team - Love is What We Need "for my brothers and my sisters" male
2. Mondo Grosso - Souffles H (King Street Club Mix)
3. Willie Ninja - Hot "im hot for you, what you gonna do" female "temperature is rising, all I need is your lovin" male
4. Jamie Principle presents Raven - Its My Pussy (Junior's Factory Mix)
5. Madonna - Secret (Junior's Sound Factory Mix)
6. Livin Joy - Dreamer (Junior Vasquez Sound Factory Mix)
7. M People - Sight For Sore Eyes (Hed Boys Post Op Mix)
8. Nu Storm - Every Night (Gonna Find Me) "every night, gonna burn me, till light" male
9. Tribal Infusion - Sumba-Lumba (Secret Weapon Mix) [Strictyl Rhythm]
9. Tribal Infusion - Sumba-Lumba (Secret Weapon Mix) [Strictyl Rhythm] cont
10. The Blackout Allstars - I Like It (D'Ambrosio Club Mix) I like it like that (Samba)
11. Happy Larry's Big Beat Orchestra - Got The Music (Nush Byte Dub) "got the sun, got the melody, get on down"
12. DJ Duke - Throw Ya Hands (In The Air) (Rhythm Mix)
13. Aura And Thee Dove - Pussn' Meow
14. Underground Sound Of Lisbon - So Get Up (Get-Upella)
15. [24:00] ??? "to take you space" repeated female
16. Barry White - The Icon Is Love (Roger's Midnite Luv Mix)
17. Kim Crawford - Freedom (Dub) "freedom, music gives me freedom" female
18. Donna Allen - Real (Def House Mix) "its got to be real, because if it doesnt feel"
19. House Traffic - Everyday Of My Life (Route 66 Mix) cos I want you, cos I need you, cos I got to have you" female
20. Ill Disco - Keep The Jam Going "dancing through the night" female "this is serious music" male [briefly]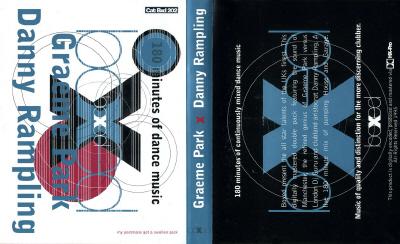 sbradyman2@aol.com