Al Mackenzie & Jon Pleased Wimmin @ Feel. Preston, 95
e-mail me if you can identify any of the unknown tracks
Al Mackenzie (april/may-ish 95)
1. [00:00] Joey Musaphia - Macusa (Cover Ups Vol 1) samples Umbe
2. [01:30] Cisky - The Party (mix?) "warehouse days of glory"
3. [06:00] House II House - Harambee (NY Groove Mix) [Strictly Rhythm]
4. [11:50] DJ Sneak - Show Me The Way (The Polyester ep) [Henry Street]
5. [16:30] Jamiroquai - Space Cowboy (Morales Classic Club Mix)
6. [21:40] Jamiroquai - Space Cowboy (Classic Dub)
7. [22:20] KWS vs Double Exposure - Ten Percent
8. [29:00] Orange - Hoopla (mix?) "I wanna make you sweat, thats nice, hoopla" female
9. [33:00] Millenium - Everybody Reach (Hard Dance Mix) "never gonna reach" repeated female
10. [37:00] The Moonwalkers feat Ultra Nate - 10,000 Screamin Faggots (Armand's Banji Mix)
11. [42:40] Cisky - The Party (Kingsize Bellride Club Mix) "party children, to the break of dawn" male
11. [00:00] Cisky - The Party (Kingsize Bellride Club Mix) (cont) miami beat/siren
12. [04:00] Mr Monday - Future (See Da Future Mix) [Open]
13. [08:00] Size 9 - Im Ready
14. [11:40] Project 4007 - Its Our Turn (DJ Duke's Funk Train Mix) [Emotive]
15. [18:40] Disco-Tex - 4 Love [Panic Records] "i walk alone" male
16. [24:10] ? "deeper, for love" repeated male
17. [29:20] Mangohead - The Project: Hard Traxx (Nitebeat) "oh baby" repeated male
18. [33:30] Hardfloor - Acperience [Harthouse]
19. [40:30] Fluke - Electric Guitar
Jon Pleased Wimmin
1. [00:00] Luna Eclipse - The Return Home (Solar Mix)
2. [05:00] Grace - Not Over Yet (Dancing Divaz Mix)
3. [10:20] Judy Cheeks - Respect
4. [15:10] Shades Of Love - Keep In Touch (Body To Body) "all over my body"
5. [22:00] Johan S - In T House "get down" female (samples CLS)
6. [25:30] Total Control feat Caroldene Black - You Took My Lovin (Pure Energy Mix)
7. [28:30] Rooster - Rooster [Not On Label] piano/female scat/banjo
8. [32:00] East 17 - Let It Rain (maybe Man City Dub?)
9. [35:40] Soapy - Horny as Funk "let me hear you say ho, oh yeah" male/horns/funky guitar
10. [41:00] H2o feat Billie - Satisfied (Take Me Higher) "baby take me higher" female
10. [00:00] H2o feat Billie - Satisfied (Take Me Higher) "baby take me higher" female (cont)
11. [00:30] Kool World Productions - In-Vader (Tall Paul Lush Mix) "you think your big time"
12. [07:40] Red Eye - Kut It [Champion] "all i want to do, when i think of you" DSK vocal sample
13. [12:00] The Shaker - Mooncat (Delirious DJ Remix) [Ugly Bug] "im just a girl in love" female/piano/acidy
14. [19:00] Blondie - Sunday Girl (Hardly Handbag Mix)
15. [24:30] Tin Tin Out feat Espiritu - Always Something There To Remind Me
16. [30:40] Rollo Goes Mystic - Love Love Love (Here I Come) "i do you, you do me" female
17. [37:00] One Tribe feat Roger - High As A Kite (Happy Blaster Mix) "i need to get high"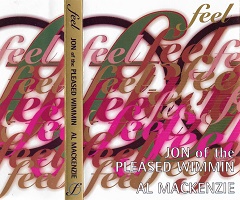 comment: similar to Boxed 95: Jon Pleased Wimmin (& Danny Rampling)

sbradyman2@aol.com