Jon Pleased Wimmin - Uplifting House, Aug 94
Recorded live @ Menage A Trois
e-mail me if you can identify any of the tracks
1. Boomshanka - Take My Love [Cowboy]
2. Zhane - Vibe (mix?) [Motown] "keep this movin, listen to the vibe" female
3. Adele Bertei - Zami Girl (Junior Vasquez Factory Mix) [A Records] "hell raiser, ball breaker" ragga female
4. Namby Pamby - Girlz (M.B.S Queer Mix Part 1 & 2) "girl girl and boy, now it was time for me" camp
5. Junior Vasquez - Get Your Hands Off My Man (Fire Island Dub 4 Junior) [Tribal UK]
6. Olga - Im A Bitch
7. Loleatta Holloway - The Queens Anthem (Cummin In My Rollers Mix) [Six6]
8. Kon Kan - I Beg Your Pardon (Sacred Dub) (I Never Promised You A Rose Garden)
9. Tony Di Bart - Do It [Cleveland City]
10. [35:30] ? mamma say
11. Dr Alban - Sing Hallelujah (Red City Vocal Remix) [Logic]
12. Centurions - Burn [Seka] "you got me burning"
13. Sam Paganini presents Romeo Blue - That Music (Hypno Sam Mix) [Union] "slammin, i love that music, makes me feel groovy"
14. S.A.I.N. - Its Alright (The 1045 Club Mix) [Nite Beat] "oh yeah, get up, slammin" familiar
15. Soundsation - Get On Up [Smokin Vinyl] "youve got to get on up, dont you wanna" female/samples incredible bongo band
16. Tinman - 18 Strings (Chris & James Remix) [FFRR] "rock the house live"
17. Soundsation - Peace & Joy [Smokin Vinyl]
18. Full Monty Allstars - Brilliant Feeling (Legs In The Air) [Full Monty]
19. [73:00] ? inst with piano (familiar)
20. Deep Creed - Can U Feel It (Suede Puma Mix)
21. Smooth Touch - House Of Love (In My House) [Strictly Rhythm]
22. Deee-Lite - Bring Me Your Love (DJ EFX Remix) [Elektra] "ive been waiting for so long"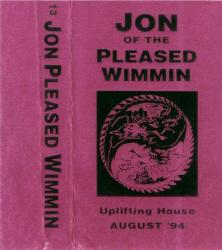 comment: similar to 16-7-94 Essential Mix

sbradyman2@aol.com