Jon Pleased Wimmin @ Angels, Burnley 95
e-mail me if you can identify any of the unknown tracks
1. Shut Up & Dance - Save It 'Til The Mourning After (Inst)
2. Xen Mantra - Old Skool (Primecuts Volume #1) "hu" todd
3. Cabana - Bailando Con Lobos (BT Remix) [Hi Life]
4. 20 Fingers feat Roula - Lick It (Kamasutra Remix) heavy bass "baby work it" female
5. Ce Ce Peniston - Keep Givin Me Your Love (Boss Mix) "take take take" female
6. Quakerman - Schlam Me (U Star Mix) [Work]
7. Seal - Im Alive (Sasha & BT's Atraxion Future Mix)
8. B B Club - Play This House "lets all play this house" female
9. Judy Cheeks - As Long As Your Good To Me (mix?) "I aint going nowhere"
10. Diva - The Sun Always Shines On TV (Perfecto Mix)
11. Self Preservation Society - The Whoop
12. Urban Cookie Collective - Spend The Day (Development Corporation Dub) "i can only pray"
13. Livin Joy - Dreamer (Jupiter 12" Collision Mix)
14. Zero The Hero - Come With Me (Euphoric Riff Mix) "party now come with me" female
15. [73:00] ? "come on" repeated male
16. [80:00] ? latin (might be part of above)
17. Majick Village - Hot (The Cotton Club Fantastic Mix) "hu" "go go" keep it going now
18. Baby Bumps - Funky Sugar [Azuli] "hey the buddy" male/female scat (familiar) "ah oh aye aye"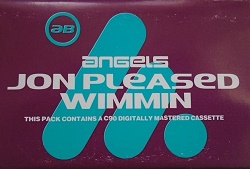 comment: similar to Swoon 1995 & Boxed 95: Danny Rampling & Jon Pleased Wimmin
and is also released as Positive 95 - Jon Pleased Wimmin (with Smokin Jo)