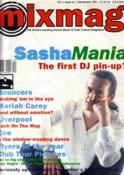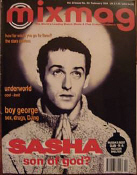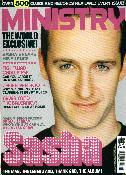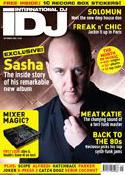 DJ Sasha Discography
(not for sale just for reference)
B.M.EX - Appolonia / Feel The Drop 1992 (double pack)
Sasha & Danny Campbell - Together 1993
Sasha & Sam Mollison - Higher Ground 1994
Sasha & Sam Mollison - Magic #1 1994
Sasha & Sam Mollison - Magic #2 1994
Sasha "The Qat Collection Version 1" 1994 album
Sasha "The Qat Collection Version 2" 1994 album
Sasha and Maria "Be As One / Heart Of Imagination" 1996
Sasha "Arkham Asylum / Ohmna" 1996
2 Phat Cunts "Ride" 1998
Sasha "Xpander ep" 1999 (double pack)
Sasha & Maria Naylar "Love Is The God"
Sasha / Emerson "Scorchio" 2000
Sasha vs Klubbheads "Im Still Waiting" 2000
Airdrawndagger 2002 album
Sasha "Wavy Gravy" 2002
DJ Sasha Remixes
Alexander O'Neal "In The Middle" (QAT Concept Mix) [1993]
Brothers In Rhythm "Peace & Harmony" (Sasha's Violence & Discord Mix ) [1991]
BT "Divinity & Quark" [1996]
BT "Embracing The Sunshine / Deeper Sunshine" (Sasha Remixes) [1995]
BT "Remember" [1998]
Cabana "Bailando Con Lobos" [1995]
Chemical Brothers "Out Of Control" [1998]
Creative Thieves "Nasty Rhythm" (Sasha's MFI Mix) [1991]
D:Ream "U R The Best Thing" (Sasha Dub) [1992]
Donna Gardier "Good Thing" (Sasha In North London Mix ) (Sasha In Japan Mix) [1991]
Eat Static "Gulf Breeze" (Remix) [1994]
Evolution "Metropolis" [1991]
Evolution "Came Outa Nowhere" (Sashas take me higher mix) [1990]
E-Zee Possee feat Dr Mouthquake "Love On Love" sasha mixes UK 92 PROT 2012 [1992]
Gus Gus "Polyesterday/Purple" [1998]
Hedningarna "Kruspolska Sasha Mixes" [1994]
Horse "Careful" [1997]
House Of Zekkeriyas "Secret Star" [1993]
Hysterix "Must Be The Music" [1994]
Hysterix "Talk To Me" (Sasha`s Full Master Mix) [1994]
Jimi Polo "Better Days" DMC remix [1991]
Jomanda "Never" sasha remix / inst [1993]
Judy Cheeks "So In Love (The Real Deal)" [1993]
Londonbeat "Sea Of Tranquility" [1992]
Madonna "Ray Of Light" [1998]
Madonna "Sky Fits Heaven" ( Sasha Remix ) [1998]
Madonna "Drowned World / Substitute For Love" bt & sasha mixes [1998]
Marina Van Rooy "Let You Go" [1991]
M-People "How Can I Love You More?" (Sasha's Master Edit) [1992]
M-People Someday (Sasha's Mix) "Sasha Meets M-People" [1992]
Mr Fingers "Closer" (Sasha Mix ) [1992]
Orbital "Midnight" Midnight (Sasha Mix ) [1991]
Orbital "Nothing Left" Belfast (Sasha vs The Light Remix) [1998]
Ozo & Mighty Biafra "Anambra part 2" ( Sasha Remix ) [1992]
Pet Shop Boys "I Wouldn't Normally Do This Kind Of Thing" The Remixes #1 West End Girls (Sasha Remix) [1993]
Rusty "Everything is Gonna Change" REMIXES sasha [1991]
Sasha vs Together "The Land" [1990]
Seal "Kiss From a Rose / I'm Alive" [1995]
Sounds Of Blackness "I'm Going All The Way" [1993]
The Beloved "The Sun Rising" ( Sasha Remix )
The Reese Project - Colour Of Love (sasha DMC mix) [1992]
The Reese Project "Direct Me" (Sasha's 3AM Drop Mix) [1995]
Third World "Now That We Found Love" [1991]
Together "Storming Heaven" (Sasha Remix) [1992]
Unique 3 "No More" Sasha Mixes UK [1991]
Up Yer Ronson "I Will Be Released" "Lost In Love" (Sasha Remix) [1995]
Urban Soul "Alright" (Remix) [1990]
Urban Soul "Always" ( sasha full music mix / string / dub ) [1992]
DJ Sasha Mix Compilations
(1992) Mixmag "Live Mix CD Series Vol. III" mixed by Sasha / CJ Mackintosh, Jan 92
(1993) DJ Culture Vol.1 mixed by Sasha & Dave Seaman
(1993) Sasha "The Remixes"
(1994) Renaissance "The Mix Collection Vol.1" mixed by Sasha & John Digweed
(1995) Essential Mix Vol.1 - Pete Tong, Carl Cox, Sasha & Paul Oakenfold
(1996) Northern Exposure present Sasha & John Digweed
(1997) Northern Exposure 2 presents Sasha & John Digweed
(1998) Global Underground 009 - San Francisco - Sasha
(1999) Global Underground 013 - Ibiza - Sasha
(1999) Northern Exposure - "Expeditions" - Sasha & John Digweed
(2000) Communicate - Sasha & John Digweed
--------------------------------------------------------------------------------
***click here for live DJ Sasha club mixes (with tracklistings)***
--------------------------------------------------------------------------------