DJ Sasha & Tony De Vit - Chuff Chuff Collection '94 (Green)
Live Recordings From Chuff Chuff & Miss Moneypenny's
e-mail me if you can identify any of the unknown tracks here
* Sasha *
1. Eve Gallagher - You Can Have It All (Rhyme Time Club Mix) 'theres a rumour on the streets that you can have it all'
2. Apollo 440 - Liquid Cool (Deep Forest Mix)
3. Miss Bliss - Best Thing (F.O.S. Eternal Remix) "your the best thing" female
4. Apollo 440 - Liquid Cool (mix?)
5. Michelle Sweeney - This Time (Ramp Next Time Mix) [Atlantic] "ive got this feeling, ive got to feel it, ive got to have you" female
6. Boomshanka - Be A Witness (What We Believe) [Xplicit Vinyl]
7. The Foot Club - Driftwood (Hoof Mix) 'ive got this feeling' female/piano/sax

8. [44:10] ??? "feel it" repeated male
9. Moby - Feeling So Real (Old Skool Mix) "set it up dj, on the dance" warehouse style piano
10. Carpe Diem - Snakecharmer (Dave Valentine Mix) "lose control" male
11. Banco De Gaia - Heliopolis
12. 108 Grand - Tonight (Vox Remix) "feel free tonight" male
13. First Life - Be One Of Us
14. Soul Surfers - Slip (Ravine Mix) [23rd Precinct]
15. [85:20] ??? male scat "get get get the noise"
* Tony De Vit *
1. [00:00] ? "youve got to move cos this beats pumpin" female / sax
2. [04:00] ? "were on the move, shout" female
3. Triple Pack - Join Hands [Urban Hero] "join hands each and every nation" female/piano
4. Mr Roy - Something About You (Mr Roy's Red Label Mix) inst with piano
5. Tom Tom -The Dubbed Hamma (Remix) [Beeswax] "yeah"
6. Itchy & Scratchy - Come On (Insane Mix) [Spot On]
7. [22:20] ? organ/female
8. D'Enrico - Everybody Party "drum beats" male / spanish guitar
9. The Shaker - Just Lick It (Hand & Spear Sublime Mix) [Ugly Bug] "come on, do it for you, like you want me to" male
10. Finitribe - Brand New "its brand new and its coming through, running, its a long time coming" male
11. Time Of The Mumph - Control [Fresh] "let the music take control" female/piano
12. 99th Floor Elevators - Hooked (Bouncy Shakedown) "woh" female/percussive / synth
13. East 17 - Around The World (P&C Mix) sounds like In-Vader
14. Olga - Im A Bitch
15. Sister Bliss - Cant Get A Man, Cant Get A Job (Lifes A Bitch)
16. Chapter 9 - Feel Free [Ouch!] "lets do it yall, feel free"
17. Atlantic Ocean - Move Baby "ooh baby" repeated female "hey buddy hey" male
comment : also seen the sasha mix going around dated 1995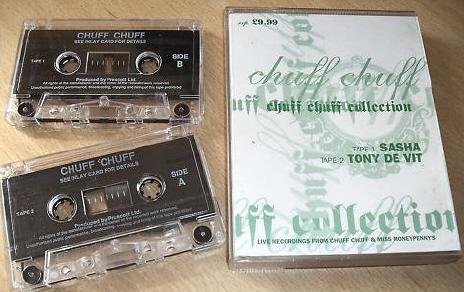 sbradyman2@aol.com